Smooth skin without shaving
Smooth armpits every day
Not only in summer and with light clothing smooth armpits are a relief. Rather, throughout the year it is important that no annoying hair grows in this place. Contrary to the assumption that this is only an advantage for aesthetic reasons, there is also a hygiene factor that plays a major role for this. After all, it is precisely in this area that many bacteria, which are responsible for unpleasant odors, concentrate. Hair growth, among other things, accelerates their formation.
Here, permanent* hair removal not only counteracts hair, but unpleasant odor as well.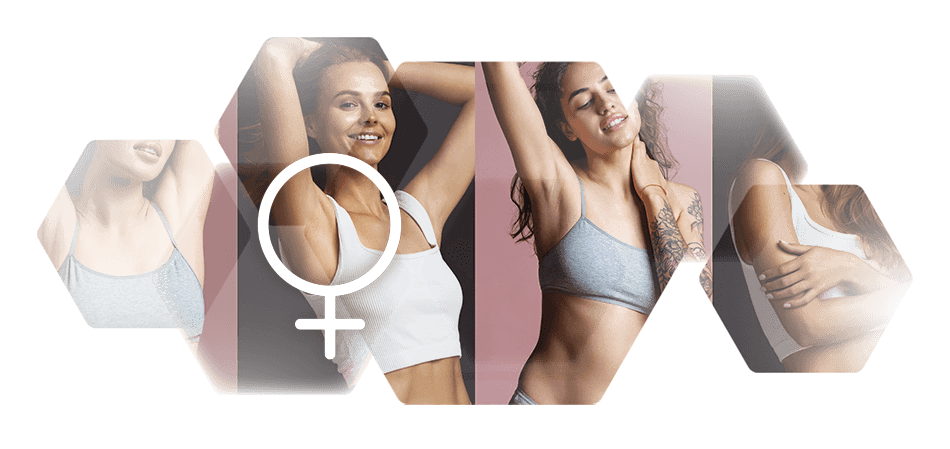 Best results for all hair types
XENOgel® Technology has the great advantage that it can be used on almost all skin and hair types. Women who belong to the darker type, of course, have darker hair. Women who are more of the darker type naturally also have darker hair. This means that stubble on the armpits is immediately visible after just one day and can be recognized by everyone. This means that daily shaving is a requirement here.
Get rid of this burden forever and let us help you achieve smooth and well-groomed skin.
No shaving or waxing anymore
Forget about annoying stubble, bothersome hair and scratchy skin, because thanks to permanent* hair removal we can help you achieve smooth and soft armpits in the long term. You and your body will become the epitome of femininity and the ideal against which others measure themselves.
Convince yourself of our modern technology
Do you repeatedly invest time, money and effort in shaving your armpits every day? Stop it, we will help you! Thanks to a wide range of all methods available on the market, we can offer you and your skin's needs the perfect alternative to temporary hair removal methods. Modern and innovative methods, such as diode, alexandrite or YAG laser in combination with the best service, allow everyone to achieve a permanent* result of hair removal and at the same time enjoy life more. Revolutionary methods of light and laser therapy, such as our specially developed XENOgel® Technology or traditional IPL and SHR, are the best options on the way to a hair-free body.
Be convinced by our free and non-binding consultation in our institute. We will show you the best options for permanent* hair removal* for you and your skin.