Hair on the back and shoulders
A burden that can end
Many men are familiar with the issue of back hair and find it bothersome. Even though these hairs are usually only visible in the mirror, they can be perceived as uncomfortable in various situations. For this reason, many men choose to remove them. However, removing hair from the back can often be tedious and time-consuming. It's also important to note that hair can grow not only on the back but also on the shoulders, which can cause additional discomfort. Fortunately, there are modern technologies that offer an effective solution to this problem.
Most commonly, either shaving or waxing is used to remove unwanted back hair. Removing hair from the back with a razor can be very laborious. The major problem here is the time it takes. Moreover, there is the inconvenience of reaching the back for shaving. Innovative light-based hair removal techniques offer a solution to say goodbye to constant shaving and waxing.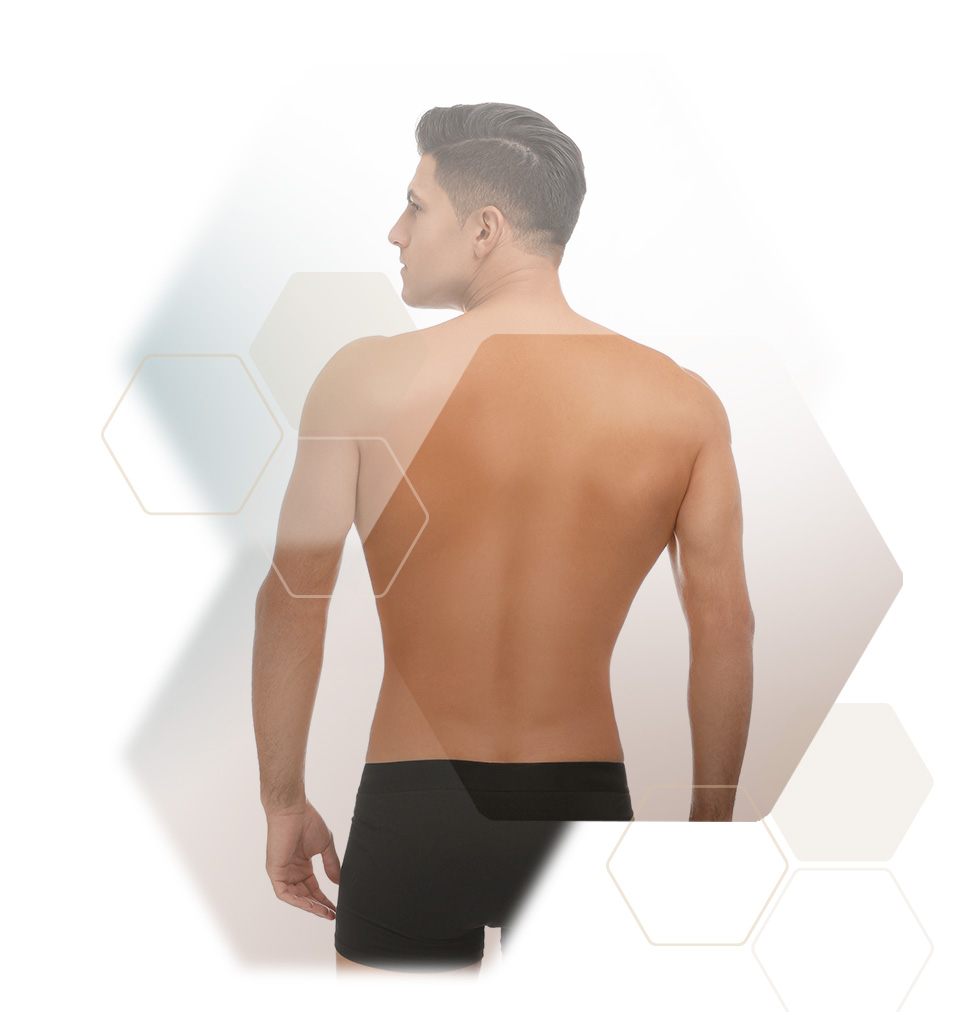 How is the best way to remove back hair?
Shaving hair on men's back
Shaving hair on the back and shoulders is a common method for getting rid of unwanted hair. However, it is often not very effective and can lead to unpleasant side effects. Shaving can result in rapid regrowth of hair with stubble, requiring frequent shaving. In addition, cuts and skin irritation are common problems. Shaving can be particularly challenging in hard-to-reach areas like the shoulders. Fortunately, there are advanced technologies like permanent hair removal that offer an effective and long-lasting solution without the discomfort of shaving.
Hair removal without pain and side effects
In our modern institute in Kaiserslautern, we offer you a wide range of advanced technologies for hair removal with light and laser. Our innovative XENOgel® Technology enables painless hair removal. By gently applying a cooling crystal gel, there is only a pleasant warmth sensation on the skin during the treatment. This groundbreaking method not only provides effective results but also a high level of comfort. For men at Haarfreiheit in Kaiserslautern, comfort means a relaxed atmosphere during back and shoulder hair removal. Our specialized team ensures that you feel comfortable during the treatment and can enjoy the best possible comfort. Regardless of which technology you choose, our expert staff is ready to assist you in finding the optimal solution for your needs.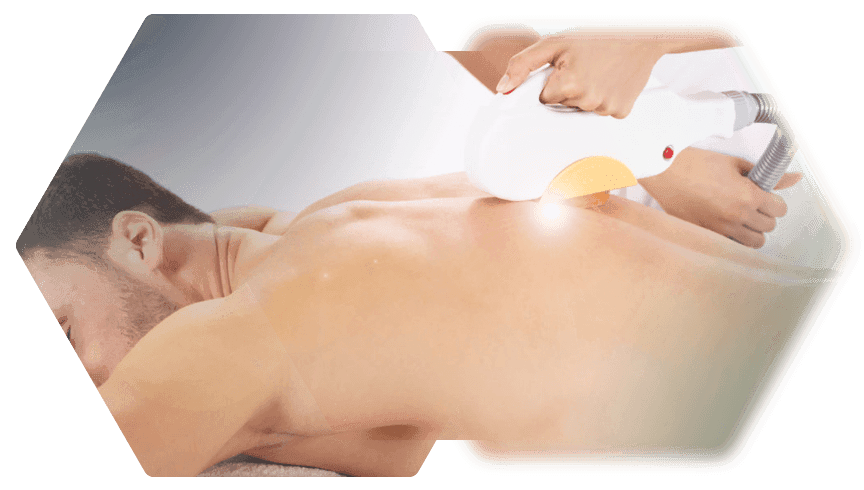 No longer necessary to shave
Experience an all-around comfortable feeling without having to worry about removing back hair yourself. Shaving and effort are a thing of the past. With us, you'll find the solution for a well-groomed appearance on your neck and back without any hassle. Our modern technologies and skilled team provide you with smooth skin without the need for self-shaving. Enjoy the convenience of a professional treatment that gives you carefree well-being and a confident presence.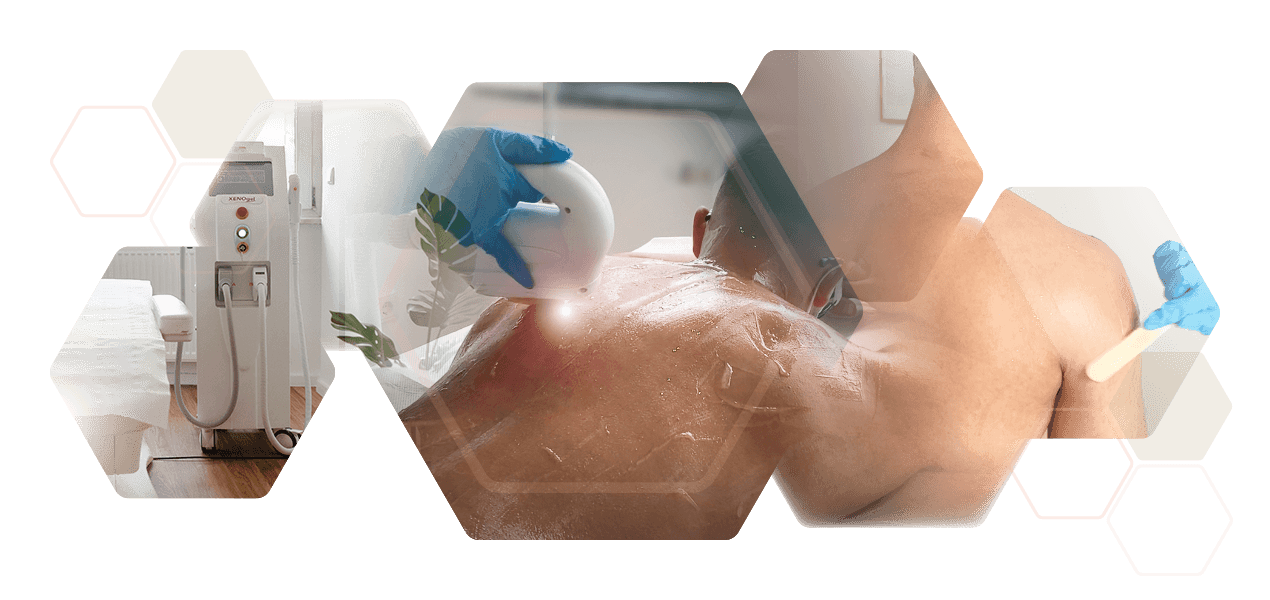 Concentrated competence
Convincing professionalism in Kaiserslautern
Our priority is to use the most advanced and highly effective technologies to provide you with lasting comfort. However, even the most excellent technology would not be fully effective without the expertise and knowledge of our trained personnel in Kaiserslautern. Our professional staff stays up-to-date through regular training to provide you with optimal service. Your satisfaction is of the utmost importance to us, and we do everything in our power to offer you a professional and pleasant experience.
Free consultation for removal of back hair
In Kaiserslautern, we offer a free consultation for back hair removal. Our experienced team is here to provide you with all the information about the various methods for permanent back hair removal. We understand that unwanted back hair can often be perceived as bothersome. During our consultation, we will thoroughly explain the options, benefits, and the procedure of the treatments, so you can make the best decision for your needs.